Saving months of extra work with open collaboration and transparent communication.
Leading a team remotely and collaborating with different departments from a distant place and time zone has its challenges. One has to build rapport and understanding to make things work from afar. Over time, I introduced various tools (like Slack) and processes (like weekly checkups) to keep things on track. This case study is one of many examples showcasing the benefits we reaped from the open and transparent culture at Unmetric.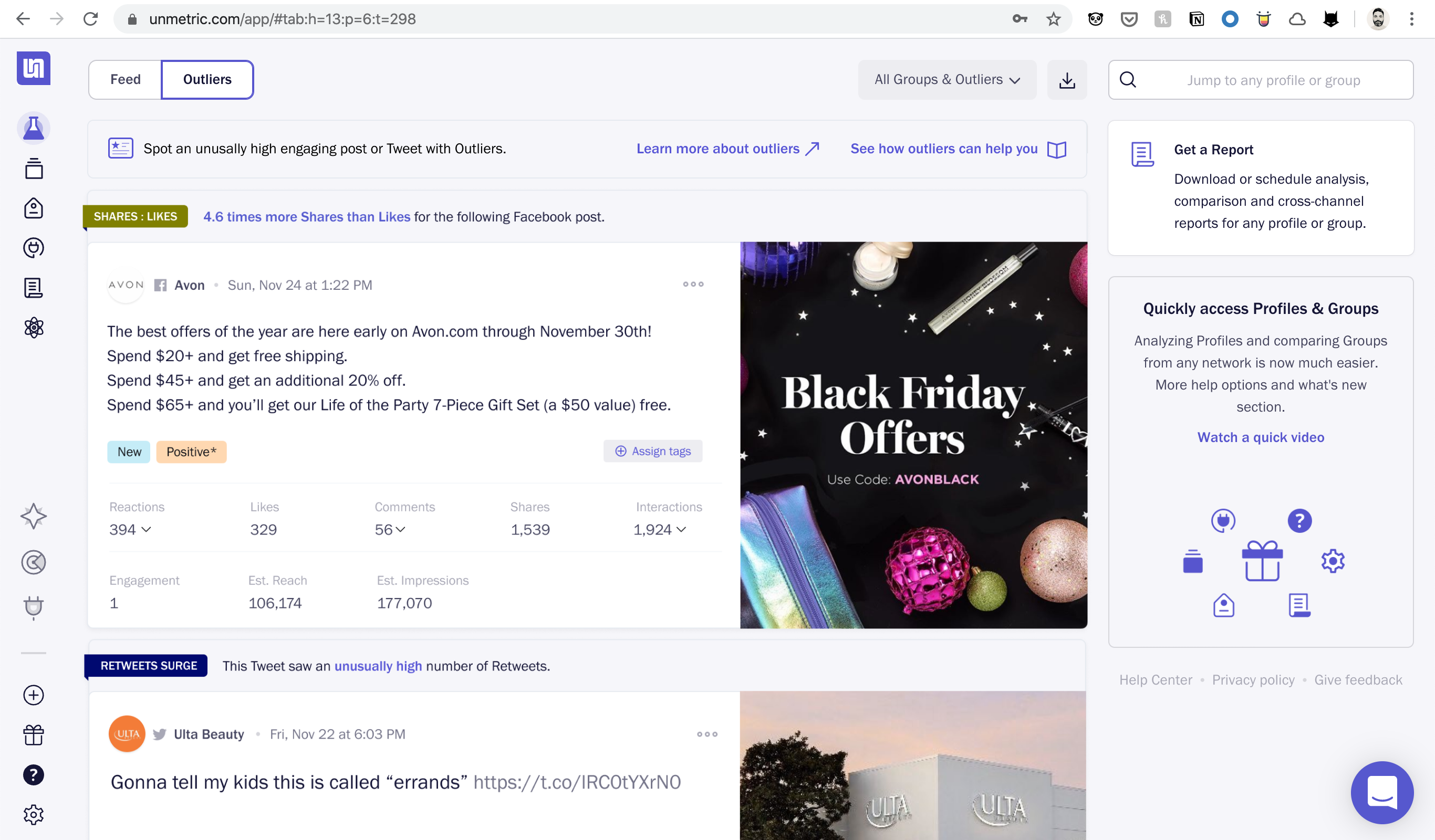 Role
Research
UI/UX Design
Project Management
Problem
In Unmetric's flagship product – Analyze (the social media benchmarking tool) – the two main tasks performed by 100% of the users are:
Analyzing your own profiles, competitors, or any of the 100K profiles
Comparing Groups (a set of social profiles)
In the older solution, we made it easy to discover and use these two features. However, the recent feedback revealed that the users find it hard to navigate and search for a brand if they have added a large number of profiles.
I talked to our customer support team asking if they have heard any other feedback related to these primary tasks and section of Analyze. They told some users are using Command + F to search a profile they are looking for. What a solution!
The Analyze homepage, Focus and Compare landing pages have been same for years now. In the last few years, we signed up big brands, like, Unilever, Coca-Cola, GM, Pepsi, Accenture, Edelman, etc. and they needed to analyze large number of profiles and groups.
After some brainstorming, I narrowed down the problems as:
Profiles were sorted by added date and not alphabetically
Groups were sorted by creation date and not alphabetically
Connected pages are hidden
Not easy to switch/discover other social networks
Homepage remained same when networks were switched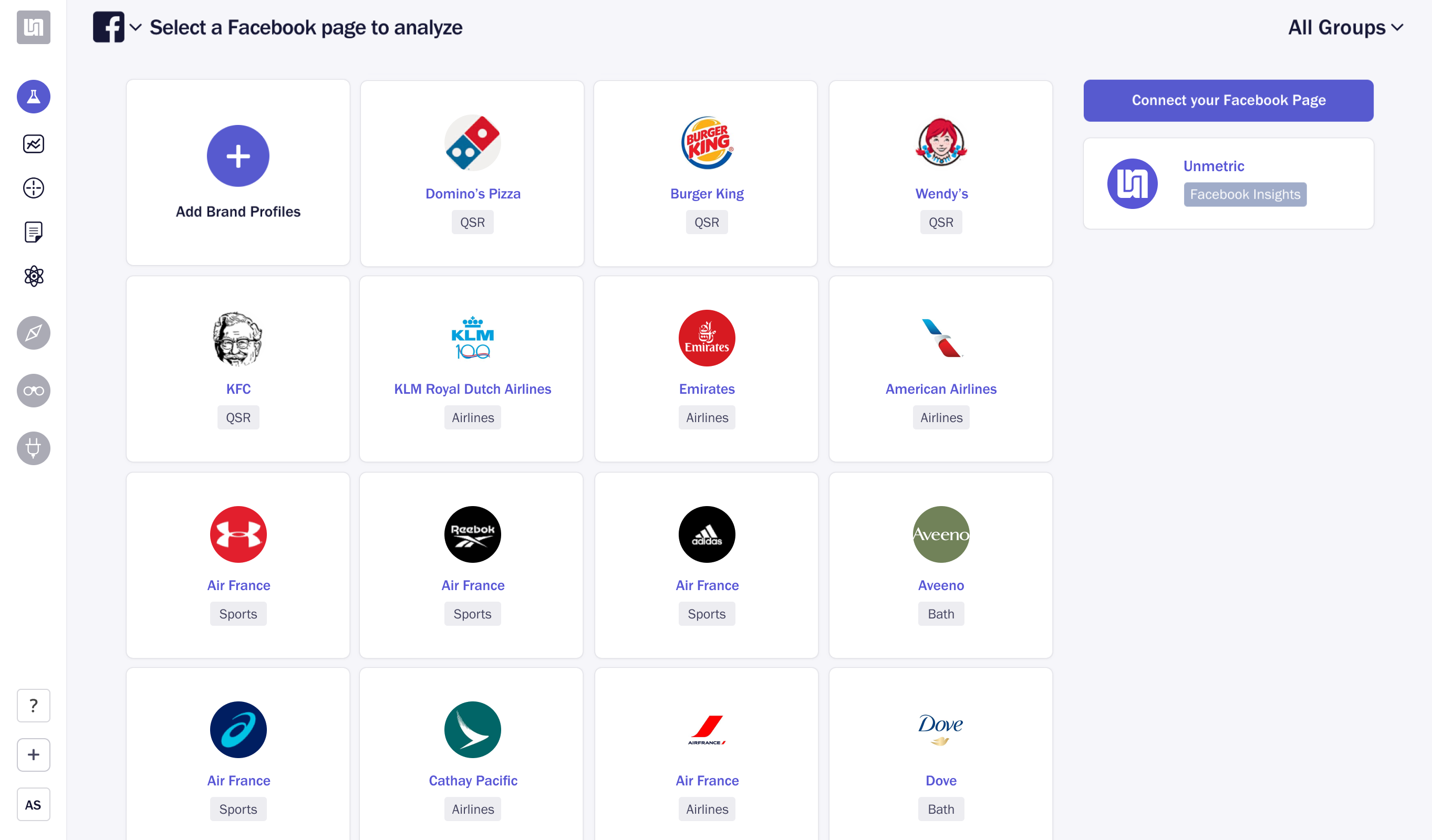 Process
Let's take a step back
I shared these issues with our Head of Product who agreed. However, I wanted to take a step back and see how many users might be facing any of these issues. Also, what percentage of total active users have added more than 25, 50, and 100 profiles. And, what's the average number of groups an active user has created.
No Mixpanel, no problem
There was no Mixpanel dashboard configured to see this particular data set, so we pulled data from the database. I sent the data points I needed to our dev lead, and he got back after 11 hours as we are in different timezones.
I wasn't happy with our progress on data analysis, so I decided to pull the data myself. I collaborated with another developer to setup Sequel Pro and a few SQL queries to pull that data.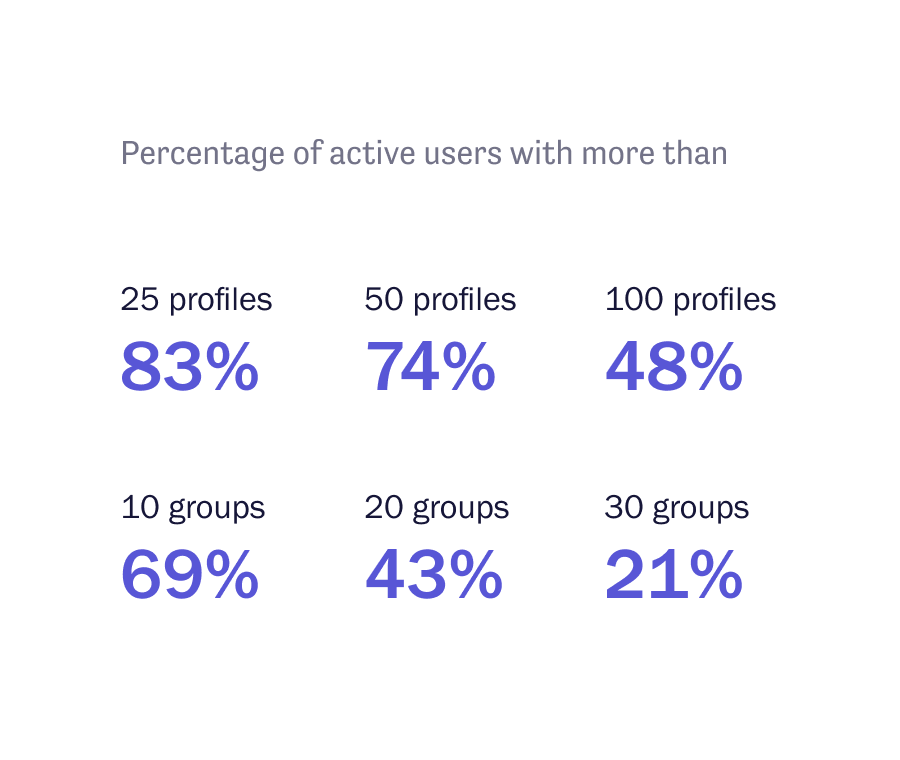 Solutions
Alphabetical sorting to fix problems #1 and #2
Data analysis reflected that most of our users (70-80%) might be facing issues to look for profiles and groups easily. There could be a bunch of approaches but I decided to go with a solution which required least effort: alphabetically sorted profiles and groups (by default) and the added ability to search for profiles.
I had a chat with our dev lead and discussed these changes. A simple solution like this was an easy win and it was realeased in a couple of weeks.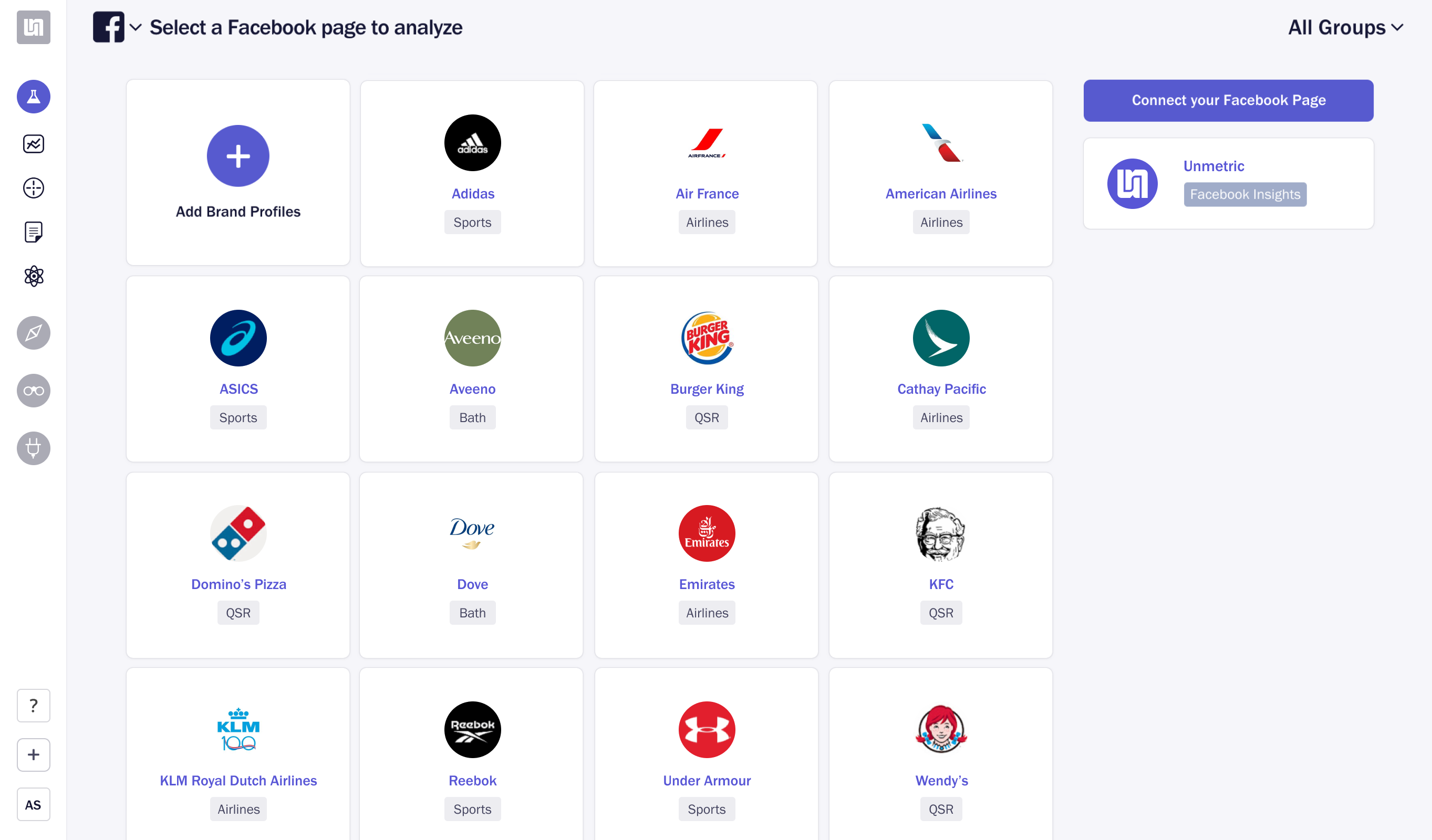 Solution for problem #3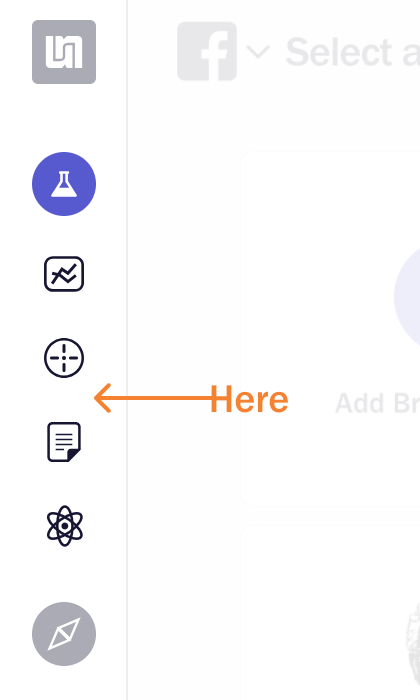 Another frequent feature request was to move Connected/Owned Profiles to a dedicated more visible section. This came from our accounts team as they believed that this is a very important feature to make users stick and get most out of our platform. And having it buried under Analyze section is not helping.
My plan was to move it to the main navigation in the sidebar so people can see it from anywhere. This will make it more discoverable and accessible.
A designer's endless pursuit for improvement
Even though the main issues were fixed, I was not happy with our homepage. The most visited section of the app was unthoughful and plain dumb. Nobody ever complained about it though.
No complaints doesn't mean it's perfect. Users didn't say anything as it was not causing any issues. But as a designer, it's my responsibility to improve areas and experiences that sometimes seem small and unimportant.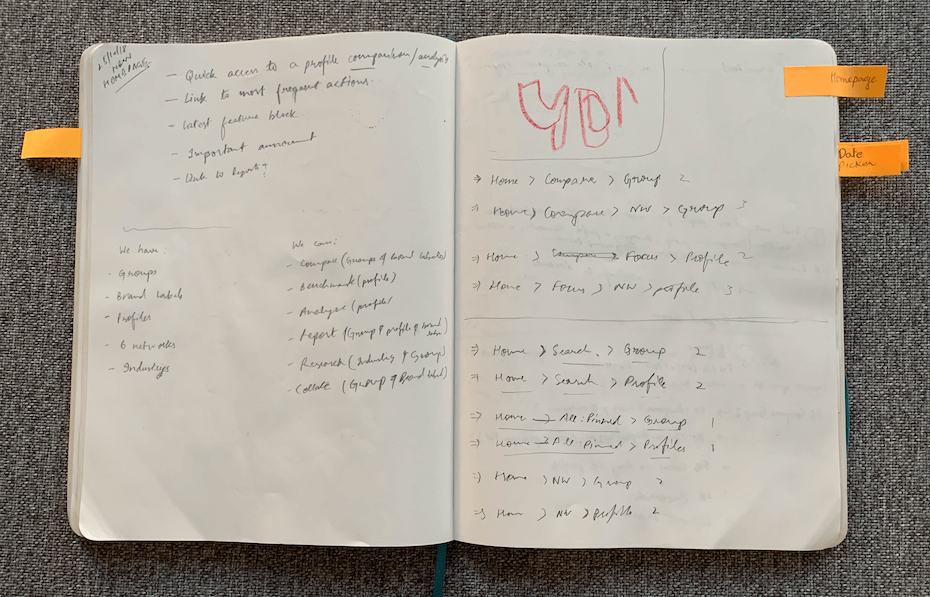 I started brainstorming to see how I can fix the homepage. Moving the most important actions which were somewhat deeper in the app came to my mind right away. After some sketching and scribbling I came up with a rough solution that included:
Change networks drop-down to tabs and put on the homepage
Move profiles, groups and connected accounts under network tabs
Add ability to search profiles and groups across networks
Ability to star profiles and groups so they are pinned on top
Sort by recently accessed, date added/created (default), and alphabetically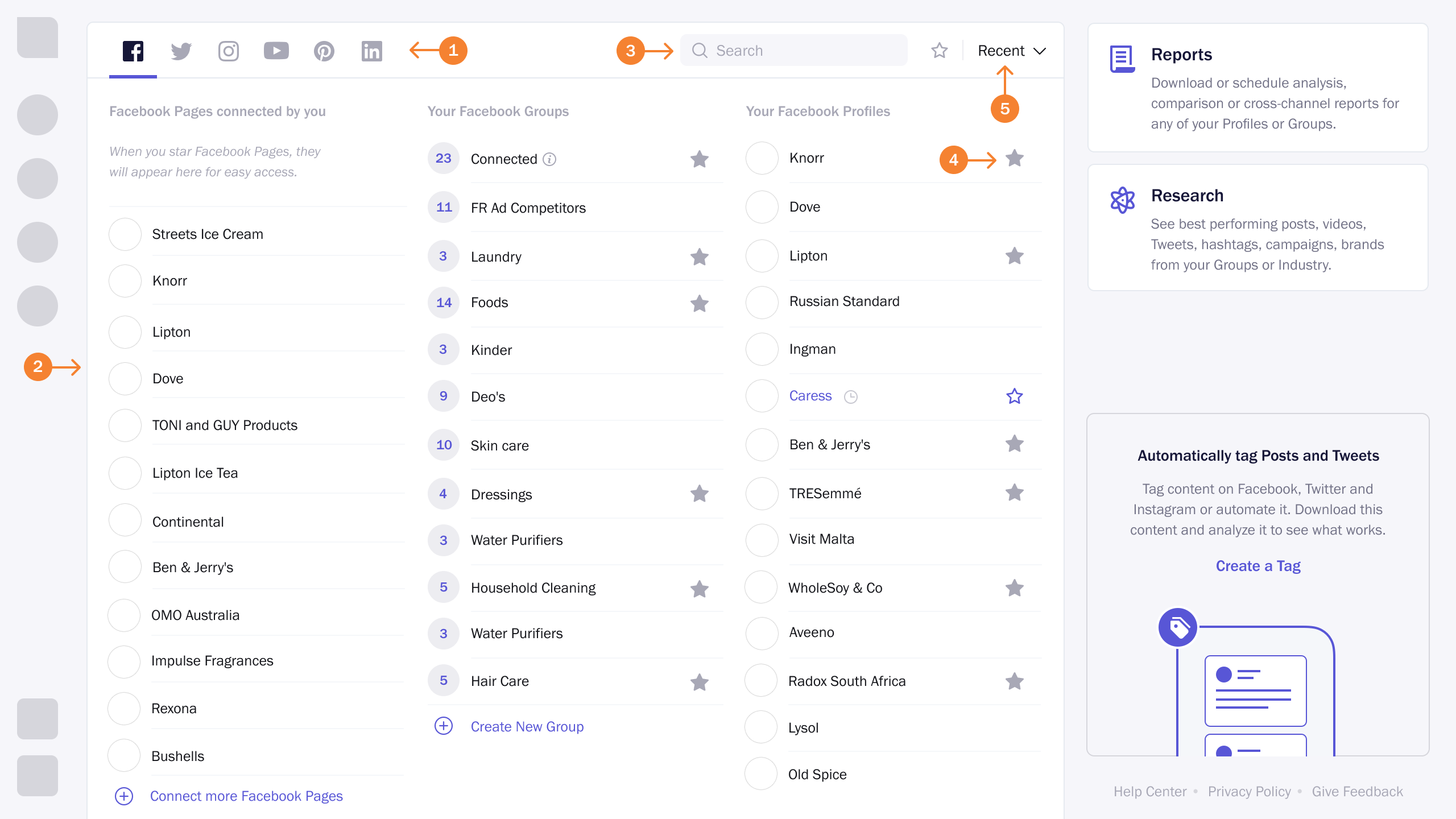 Feedback always help
I have worked with our CEO for almost 8 years now and he is the smartest person I know, even when it comes to product and UX. I don't seek solutions from him (that's what he me hired for) but I always like to bounce my ideas off him.
Our CEO asked me why we are making these changes, and how will they help. After he was convinced with my answers, he suggested to get rid of "sort" and "star" functionalities as multiple users from the same organizations use the same login. I didn't know this fact but after he told me his suggestion made absolute sense.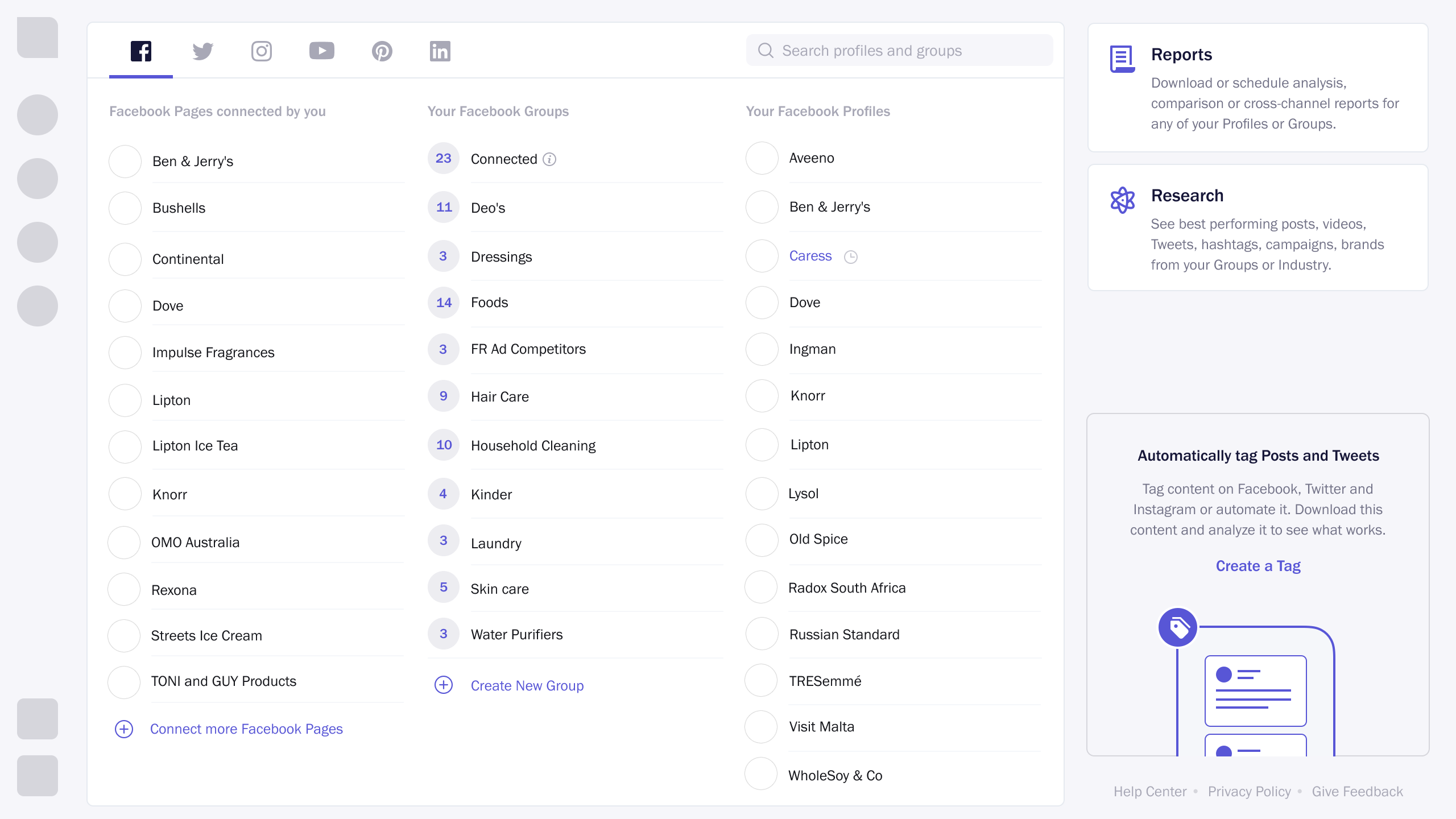 Something important was cooking simultaneously
When the homepage design was almost complete and I was ready to hand it over to our front-end developer, I got a message from our data science lead. He provided some info on an upcoming feature: Outliers. We setup a meeting to discuss it in detail. I asked him a few question upfront so as to understand more and what ideas he had.
During the meeting he told me that his team has been working on this feature for some time now, and ready for next phase. This feature would allow users to detect anomolies and help users stay on top of their competitors and social in general.
He suggested that we add a dedicated section for Outliers in the main navigation somewhere as it a unique feature among competitors. This placement would give this feature more importance and visibility in our platform.
I agreed but suggested that instead of adding another section (we already had over 10 icons in the main sidebar) why not put it on homepage? That will make it even more discoverable and prominent.
They liked the idea but mentioned that Outliers won't be available all the time for all the users. I promised to think more about this scenario and revert back.
Collaboration and communication saved us, again
On one hand I almost finished the homepage with network tabs, profiles and groups, on the other hand I had an idea of putting Outliers on homepage. Things were getting complicated but one thing I knew for sure, was, we can't merge these two solutions together.
I was happy that our data science lead reached out to me early and directly, otherwise we might have launched the homepage with profiles and groups. And later it would have been super hard to change the homepage again because a) we just did it and users will hate this frequent change, b) months of development efforts would go to waste.
All dashboard should be feeds
Our CEO and I always agreed on all dashboards should be feeds argument. This was our chance to make Analyze dashboard/homepage a feed of content insights, i.e. Outliers. And later on we can add more types of insights that we were showing inside the main sections. Currently, users had to go to these sections and tabs and see those insights for themselves. Pulling them out on homepage and letting users customize what's useful for them would defintely be a game changer.
I suggested to put content feed with Outliers as a second tab (as both are content streams) on homepage while moving profiles and groups in the sidebar as a mega menu. All of us agreed on this solution.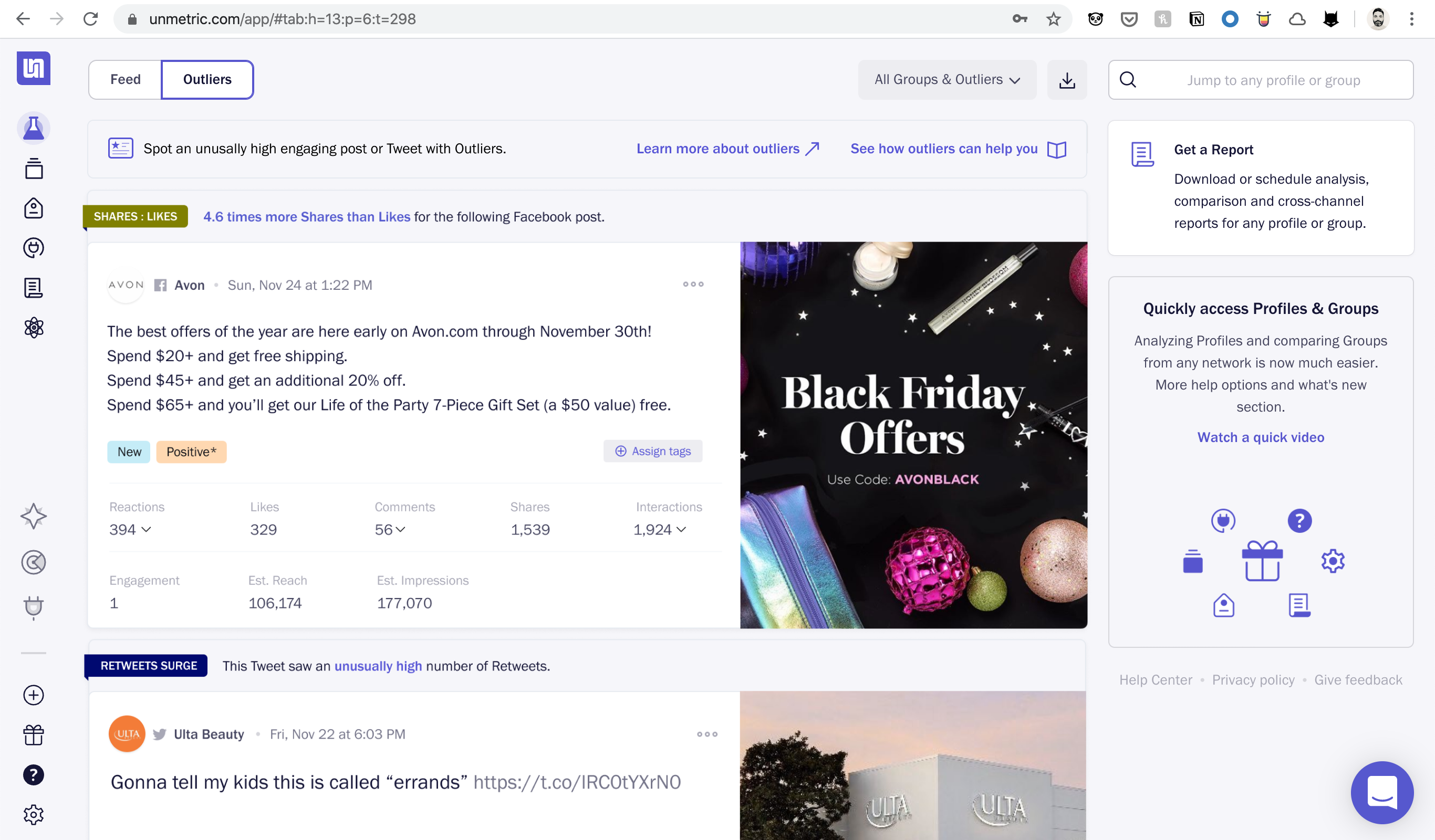 Super easy way to access profiles and groups
After puting Outliers and Feed on homepage, I went on to find the best possible place to access Profiles and Groups. With one click users can access any of their Profiles or Groups. All the networks are now clearly visible. One can quickly search for a profile without jumping between networks. I also added links to quickly add/create and manage Profiles and Groups.
I love how the QAS is shaping up and believe it will translate into a great user experience and fewer clicks to insights and data.
Let's run usability tests
Our head of customer research ran a few interal usability tests based on the scenarios I provided, and the results were all good. Finally, we found usable solutions that the whole team liked. We shipped these changes in three separate release as to make it easier for the users to adapt.
Conclusion
Being the only designer on a huge product like Analyze has more pros than cons. It helps you save time and effort, and one can say "no" more often as you don't have bandwidth. Being the main POC on design defintely helps avoid rework as it would have happened in this case.
---
---